by
William Kenny
5 Minutes
2022-02-23
What is an acrylic print? The photo behind acrylic is known as one of our premium products. So exactly what is an acrylic photo print?
In short, an acrylic print is a reproduction of your photo displayed behind acrylic glass. We print your image either as a direct print, or on real photo paper.
Part of the appeal of the acrylic print lies in its simplicity. Your print has a borderless construction that lets the photo image speak for itself.
Of course, that means we need to make sure your print reproduction is worthy of the limelight. So we print your image in ultra-crisp definition with radiant saturated colours that match any premium wall decor piece in our fantastic range.
And then there's the beautiful clarity of the acrylic glass itself. In this article we'll explain why a slimline pane of flawless glass can make the difference between a good print and a truly exceptional one.
In this article:
How Acrylic Prints are Made

The Unique Qualities of Acrylic Glass

Where to Hang your Acrylic Print

How to Hang your Acrylic Print

Where to Buy your Acrylic Print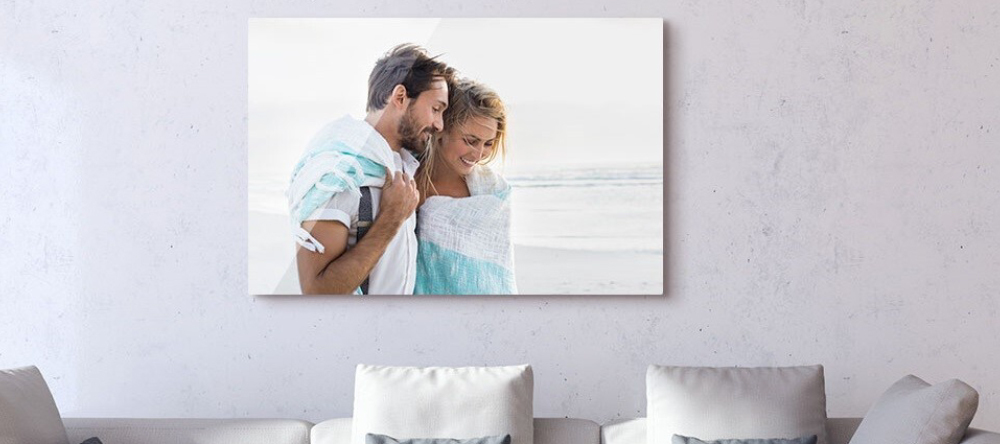 The Elegance of Simplicity: How Acrylic Prints are Made
How is the acrylic print made?
First your photo is reproduced on a paper-thin print foundation (a pure-white multilayer backing for the regular print, or real lab-quality photo paper in the case of the Acrylic Premium).
Then we cover your beautiful photo reproduction with a slimline panel of pure acrylic glass.
​
The completed product is left borderless. It's a restrained contemporary look which proves that simplicity is the soul of elegance.
All in all, the print design gives you the following great benefits:
Versatile: Transparent from the sides as well as from the front, your photo behind acrylic glass will fit in beautifully with a huge range of interior decor schemes.

Slim and unobtrusive: The acrylic print is a mere 3 millimetres thick. So your print is elegantly slim and will take up the bare minimum of space – while still being thick enough to produce a magical depth effect (of which more below!).

Lightweight: Thanks to its ultra-slimline construction, as well as the lightweight qualities of acrylic glass, the acrylic print is light enough to hang safely on any reasonably sturdy wall.

"Floating" installation. You can add one of our two ingenious hanger sets to your order for a small extra cost. The hanger sets will stay tucked away out of sight after installation, creating the illusion that your print is floating against the wall. (Read more about our hanger sets below!)
Acrylic Glass – a Touch of Magic
Each batch of glass for our acrylic prints is poured with exacting care to make sure there are no distortions or impurities. That means there's nothing to spoil the crystal clarity of the acrylic glass, or distract from the crisp lines and vibrant colours of your image. Your glass panel is cut with state-of-the-art CNC milling techniques and the surface is polished by hand.
And that's when the real magic of acrylic glass takes effect.
Your flawless acrylic print will pick up reflections from the surrounding decor, helping to bring the room together. And it will radiate natural light, making any space feel roomier and brighter.
Not only that, your print will produce a spellbinding depth effect. Your photo will throw shimmering reflections of itself inside the glass panel, creating the illusion of a three-dimensional image. Prepare to see your picture as if for the first time.
Where to Hang your Acrylic Print
The stripped-down design of the acrylic print suits a restrained interior decor scheme. It's ideal for any space with a sleek contemporary look:
Minimalist apartments. The acrylic print is perfectly at home among metal and glass. If your home has sleek, clean lines and a modern aesthetic, this is the print format for you.

Hotels and restaurants. Its quiet confidence and restrained elegance makes the acrylic print an ideal choice in forward-looking restaurants and boutique hotels.

Office space. Keep up a professional atmosphere in your open-plan workspace, or impress clients at your company HQ with a carefully chosen image that sums up your corporate ethos.
But the beauty of a print made with unadorned glass is that your acrylic print can be used almost anywhere. The transparent, reflective print medium will fit naturally into a huge range of design schemes – just like a mirror would, or a glass vase.
Which means you can concentrate on choosing the perfect photo from your collection – and choosing the room where you want to give it pride of place.
How to Hang your Acrylic Print
We sell our own ingenious hanger sets, which can be added to any order for acrylic prints (you can select this option on the Choose Format page). We strongly recommend using our hanger sets to install your print.
There are two different products: the hanger plate, suitable for smaller formats, and the aluminium backframe, suitable for large-scale prints. Both will stay hidden behind your print to achieve a magical "floating" effect.
Hanger Plate How-To:
Step 1: Choose area behind print to attach hanger plate. Rub area with fine sandpaper then clean with cloth dampened with pure alcohol. Allow to dry.

Step 2: With anti-adhesive paper still attached, lay hanger plate on back of print. Trace its outline in pencil.

Step 3: Peel away anti-adhesive paper. Press hanger plate into position.

Step 4: Leave print face down on flat surface (for about 24 hours) while adhesive hardens.

Step 5: Attach rubber bumpers to bottom corners of back of print.

Step 6: Attach hook or screws to wall, then rest ridge at back of hanger plate on hook/screws.

Aluminium Backframe How-To:
Step 1: Choose aluminium backframe when ordering and it will arrive already attached to print!

Step 2: EITHER: Insert screws into wall on level plane. (Screws must not be wider apart than open central part of backframe's top bar.) OR: Affix French cleat to wall with screws. (French cleat must not be longer than open central part of backframe's top bar.)

Step 3: Rest edge of top bar on heads of screws/on French cleat.
Where to Buy your Acrylic Print
As a premium item, our acrylic print might cost a little bit more than the cheapest prints in our range. But it won't cost more than any equivalent product available on the net. That's because we offer a Lowest Price Guarantee on all our prints. Find a cheaper alternative anywhere online and we'll beat that price by 5%!
​​
So if you like the idea of state-of-the-art photo printing displayed behind a magical, gleaming sheet of acrylic glass, and you love the idea of unbeatably low prices, then we recommend you get your acrylic photo print right here at My-Picture.co.uk.
You can take care of that here. We're sure your print will make you very happy!
Popular Products