Photo Christmas Gift Finder: Custom Prints to Suit Everyone
by
William Kenny
3 Minutes
2020-11-27
Struggling to find great Christmas gifts this year? Use our gift finder and find custom stocking fillers for your friends and family!
The chances are you'll be buying Christmas gifts for quite a few people – and no doubt there are still some empty spaces on your list! Well, you know what everyone loves? They love to see their happiest memories captured in photos. And that's why photo gifts make for brilliantly touching Christmas gifts. To help you find the perfect one, we've launched a photo Christmas gift finder featuring custom photo gifts to suit every taste and budget. Ready to explore what we have on offer?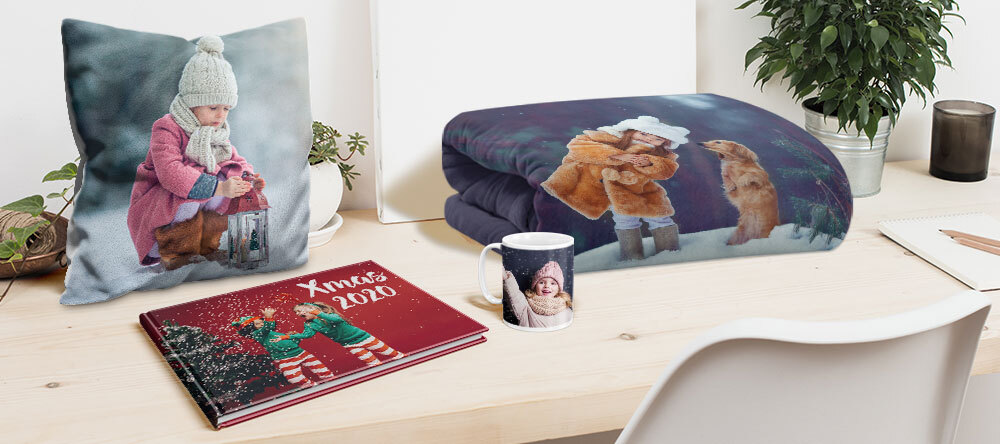 1) Photo Christmas Gifts for the Family
If you're looking for stocking fillers, your first choice has to be the photo mug. Our personalised mugs make unique and wonderfully affordable gifts for any family members – they come with the personal touch, and they're practical too! And we've got loads more affordable custom gifts too – we suggest the photo board print, the photo acrylic block or one of our versatile custom photo books!​
Custom photo prints also make great Christmas gifts for distant relatives. A comfy photo cushion or a custom photo blanket for snuggly winter evenings will show that you care – without messing up your carefully planned holiday budget!
2) Photo Christmas Gifts for Kids
Finding Christmas gifts for children isn't always child's play! The fact is that not every photo gift will satisfy those sky-high expectations on Christmas morning, so you need to play it smart and find a gift that's lots of fun as well as looking great. One of our top picks for kids is a custom photo puzzle – they'll love putting it together, and they'll be doubly thrilled when they start to see a picture of their favourite pop star or cartoon character!
Another quirky Christmas gift for kids is a personalised star map – a framed HD print showing the alignment of stars at any place and date of your choice. This can be a special birthday or any other memorable event – maybe even a dream holiday you've been keeping under wraps! Tweens and teens will love this unique bedroom decor item – it's sure to rock their Instagram!
3) Photo Custom Prints on a Budget
If you're on a tight budget, or you simply want to save some money, My-Picture.co.uk has got you covered – our gift finder features a number of budget Christmas gifts, all of outstanding quality.
Choose timeless gifts like the photo calendar or photo wooden block, or go for something more contemporary – MIXPIX® photo tiles or super-cute MixBlox (dinky acrylic photo blocks). By the way, we also sell personalised Christmas postcards – so why not slip one in with your gift to make the gesture extra meaningful?
​​
Happy gift hunting, and we hope you find something that fits the bill! Of course, if you do find the perfect gift, you'll want to make sure it's delivered in time for Christmas! We would encourage you to place your order sooner rather than later, just in case of possible delays – and that way you'll know there'll be no empty spaces under the Christmas tree. And you can take a look at our shipping and delivery page to see our super-speedy production times!
Popular Products