How to Make Christmas Cards with Photos
by
William Kenny
3 Minutes
2021-10-22
Wondering how to make Christmas cards with photos? It's easy with My-Picture.co.uk's unique personalised photo Christmas cards!
And after such a tumultuous year, many of us will be making an extra-special effort with our Christmas greetings cards. If you're looking for something more exciting than the same old robins and snowmen this year, our personalised photo Christmas cards are the perfect alternative.
So what do we print on the cards? There's a simple answer to that – anything at all! You upload your own digital photos to our webshop and we print the images on our high-quality greetings cards. You can also add text and creative backgrounds – more on that below.
Our simple 4-step guide will tell you everything you need to know. Once you're ready to get started, you can do so here!
All you need to make Christmas cards with photos:
A suitable photo in digital storage

A device with internet access

Just a couple of spare minutes!
How to make Christmas cards with photos – steps in brief
Choose photo. Choose a digital photo to print on your cards

Select format. Select your card format: folded, panorama, or postcard

Choose specifications. Choose the picture layout, background, and text

Check out. Complete your purchase and wait for delivery!
It's as simple as that. We explain each of the steps in more detail below.
Step 1: Choose Photo
First you need to choose the perfect digital images for your personalised photo Christmas cards. This is the trickiest part – but also the most rewarding!
This is your chance to pick something genuinely personal and creative. Here are a few surefire ideas to start you off:
A family portrait around the fire (festive jumpers optional!)

The kids mid-snowball fight

Your newly laden Christmas tree

Pets wearing Santa hats
You can also upload stock photos if you've seen ones that you love – just make sure they're out of copyright. You'll find a range of photobanks online that are full of great free-to-use images.
Step 2: Choose Card Format
Choose which card format you prefer from the choices below. Note that only the Folded Photo Card gives you the classic folding greetings-card effect – so if you want a Christmas card in the traditional style, that's the one to choose.
Just look at these prices!
Panorama Photo Card (£3 for a set of 10)

Folded Photo Card (£9 for a set of 10)

Photo Postcard (£4 for a set of 12)
Note that each set you order will feature 10/12 identical cards.
Click "Create now" in the relevant section to proceed to our card design page.
Step 3: Design Cards
Once on the card design page you'll see a mock-up of your card. Click the "Add Pictures" button to upload your digital images and then you can start the design process.
To the left of the screen you'll see three tabs:
Pictures: Your uploaded photos will be stored here. Drag them into the card mock-up as needed, or click the "Autofill" button and they'll be inserted automatically.

Layouts: Choose from the list of photo and/or text layouts for each page of your card.

Backgrounds. Choose a colourful background for each page if required.
For each page which has a text section, click on the default text in the card mock-up and then you can type in your message.
Once you've finished designing a page, click on the page icons at the bottom of the screen to move to the next page.
When you're happy with your design, click "Order" at top right of the screen.
Step 4: Complete Purchase
Check your order details in the Shopping Cart, then enter your delivery and payment details and complete your purchase. We'll get straight to work printing your cards!
Production takes 2-3 working days and shipping 3-5 working days.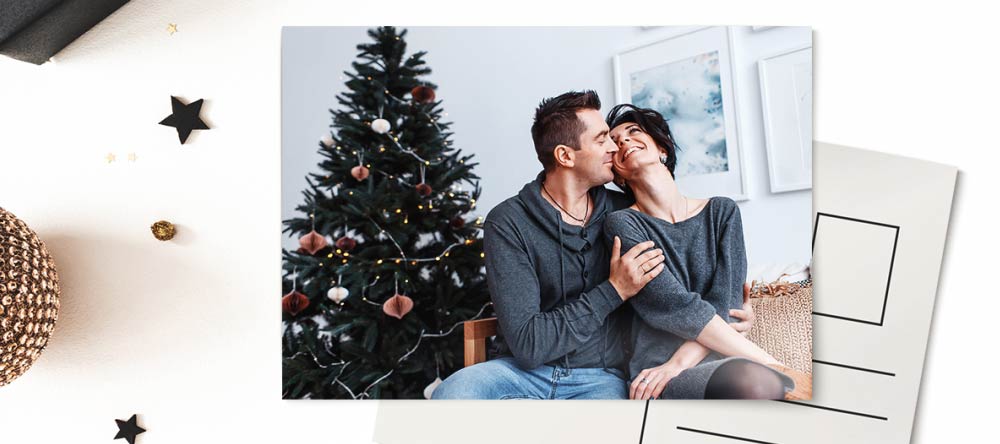 ​
Once your cards have arrived, you may want to send them as they are. But note that the cards have a semi-gloss finish which suits writing by hand. So you can sign each one for the ultimate personal touch!
Then it's time to get your personalised photo Christmas cards sent off to your loved ones. Oh, and you won't need to worry about buying envelopes, because they come included with each set of cards.
Simple as that!
Popular Products